POOL RULES & REGULATIONS
1. Pool use for eligible members only.
2. Each membership is eligible to bring in-town guests at a rate of
$5.00 per guest each day. Pool member must be present with guest.
On site or golf course.
3. Out-of-town guests are welcome at a rate of $5.00 per guest per
day. Pool member must be present with guest. On site or golf course.
4. Non-members may come to the pool as a guest 5 times during the pool
season. After that a membership will need to be purchased.
5. Guest fees must be paid prior to leaving the pool each day.
Uncollected fees will be invoiced to your account.
6. Babysitters must be 12 or older.
7. Children must be 10 years old to be at the pool alone.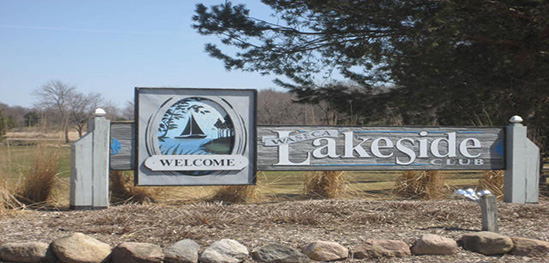 8. Kiddie Pool is under Parental Supervision only!
9. Children 8 years and older are NOT allowed in the Kiddie Pool.
10. There will be a 10 minute break every hour.
11. Adults may swim during breaks.
12. Proper swim attire is required in pool.
13. No gum, food, or drink allowed in the pool.
14. No SMOKING allowed in the pool area.
15. No glass containers of any kind in the pool area.
16. No swimming with open sores, bandages or rashes.
17. A swim suit cover-up is required when entering the clubhouse.
18. No running, shoving, pushing or pulling allowed in the pool area.
19. One person on the diving board at a time.
20. NO DIVING IN SHALLOW END OF THE POOL!
21. Flotation devices are prohibited in the deep end and may be
limited in the shallow end during busy times at the guard's discretion.
22. Misconduct will be dealt with by lifeguard and/or pool manager.
23. ONLY SWIM DIAPERS ALLOWED IN THE POOL.
24. Children need to be 115lbs. or less to use the slide.
25. All alcoholic beverages consumed need to be purchased
at Lakeside Clubhouse.
26. Pool Hours 12:00 – 7:50 PM.
DEEP END swimming requirements!
PASSED LEVEL III Swimming Lessons
NOT PASSED LEVEL III..you have the following options:
Have a parent/adult in the water…or
PASS A DEEP END swim test administered by the
lifeguard/swim instructor.
FLOTATION DEVICES:
NOT ALLOWED IN THE DEEP END OF THE POOL…
EXCEPT . Life jackets are allowed with ACTIVE parent supervision
Enjoy noodles and other flotation devices in the SHALLOW END!